As a parish church, Light of Christ Church Woodlands has the mandate to serve the Woodlands geographical region.  In particular, we have identified and adopted the Champions Court precinct as the community which we want to be more fully devoted to.  It is there at Champions Court that we have a senior activity centre, Grace Light Spring (GLS), that we operate collaboratively with the Singapore Anglican Community Services (SACS).  GLS offers enriching activities Mondays through Fridays, except Public Holidays, to keep our senior generations active in body, spirit and mind.
While it is primarily a senior activity centre, GLS also serves a platform to host a myriad of other activities for all residents of Champions Court.  Amongst other things, GLS has hosted children's programmes, academic coaching, festive celebrations such as the Lunar New Year, Mid-Autumn, and Christmas.  Something Old Something New (SOSN), a thrift shop operating in GLS, offers a wide range of pre-loved products at highly competitive prices.  We are proud to share that SOSN has staff who were once brain disorder clients of SACS.  We believe in and support inclusive work practices and communities.  Everyone needs a chance at life!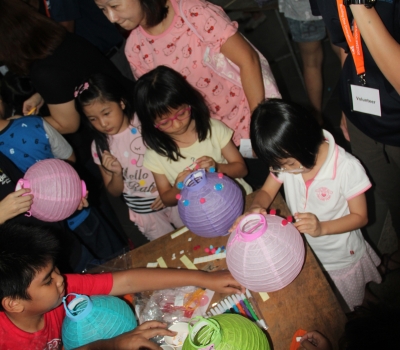 Lantern Making Competition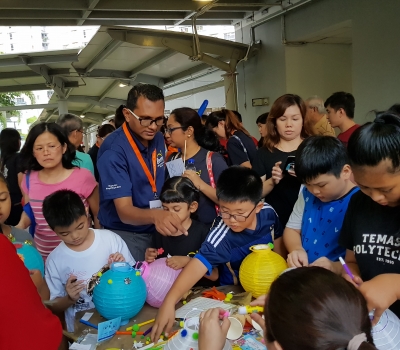 Lantern Making Competition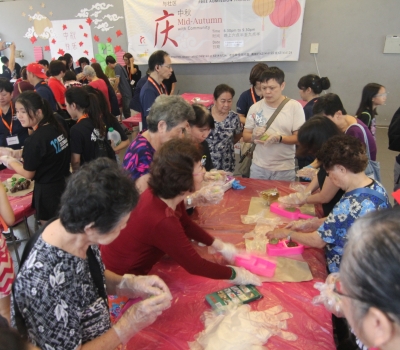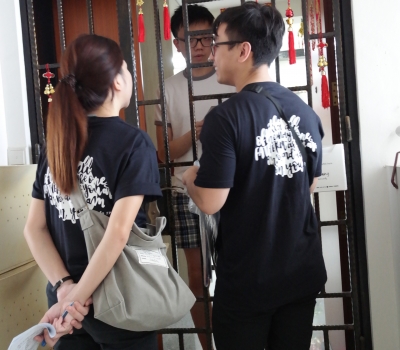 House to House Invitation
Musings of a parishioner
December 2019 – A Special 2019 Classical Christmas by Spot Pocket Opera Theatre
What a privilege it was to hear the melodious voices from Spot Pocket Opera Theatre in our very own Chapel today, 25 December 2019!  We are very blessed to have witnessed the harmonious voices worshipping the birth of our Saviour & Lord Jesus Christ on this special Christmas day.
It was a special moment as it was the last performance of Spot Pocket Opera Theatre in 2019 & Spot chose LOCCW!  To me, it also signalled a completely new & different tradition of celebrating Christmas in LOCCW too.
The crescendo of the day was the baptism of 4 members – ranging from a new born, a toddler, a working adult & to a senior – reflecting the various stages of life here on earth, that no matter whichever season of life we are in, broken or otherwise, it is never too early or too late to be reborn & join the heavenly hosts to worship & celebrate the new birth of hope, peace, love & joy ever present in our Lord Jesus!
The old has gone, the new has come!
Hallelujah!
October 2020 – LOCCW…A Conduit of Abundance
In my years participating in church activities, it is given that these activities included helping, serving, reaching out, etc to others.  These were the norms…more of giving than receiving.
I signed up for a LOCCW website training online session on 24 Oct 2020 but didn't know what to expect.
The techy training on website design, set-up & maintenance even on free servers like MAMP was refreshing, informational, loaded, relevant, complicated, technical, challenging…I dare say for every participant young & younger (aged between 20s to 50s) received more than we can handle.
The close to 5 hours session on a balmy Saturday was highly different from other churchy activities.  Every participant was fed technically & intellectually till nearly bursting…at least true for me.
Lucas Lee, our trainer, patiently went through quite a bit of details on website design, set up & maintenance.  We were shown how to start & maintain websites using WordPress & via MAMP to test & hands-on experience.
Though, true to my kiasu kiasi structured Singaporean nature, how I wished that there could be notes, or maybe an outline…yet these were glitches I could accept as I took notes.  Phew, our resourceful Administrator made recordings of the session that would be useful when I need to supplement my notes.  I am safe…I think…
Indeed LOCCW is the church to belong to!  Completing this training session convinced me that LOCCW is, as always, not only interested in our spiritual, physical & relational health but also our techy health to stay relevant in this digital age with no limitations on age group, perceived abilities etc.
What more could a senior parishioner ask for from a church?!
Thank God for LOCCW, a conduit of abundance…constantly!
January 2021 – Community Awareness Programme (CAP) for CNY…a waste of time…think again!
31 January 2021 marked the day where we, the parishioners of LOCCW, were grouped & scheduled for CAP (Community Awareness Programme) to wish our mandated & chosen precinct, Champions Court residents, a blessed CNY by gifting them with a specially designed CNY greeting card & red packets.
I attended with conflicted trepidations as this would be the 1st time during Covid that we were going out to engage our residents again.
Many questions flooded my mind – Will we flout Covid rules?  Will we be infected with Covid as we go door to door to bring good cheers?  Are we being too gung ho during Covid?  Is CAP a waste of time?  What are the tangible results from CAP since we started CAP years back?  Yes, I am human…a selfish & calculative one at that many times over.
My concerns were laid to rest when our Vicar ironed these pressing issues in his address.  Our Vicar understood our concerns too without us expressing verbally.
The icing on the cake came from the sharing by Brother S.
Some months back, Brother S, on the way to LOCCW, deliberately stopped driving when he witnessed a rider getting hit & injured by a vehicle, whose driver tried to flee the scene, during a heavy downpour.  Brother S cared for the bleeding rider till medical help arrived & was rendered.  Some Champions Court residents also chipped in to help & even recognised Brother S as coming from the church in the school who will invite residents for community engagement activities from time to time before Covid.
After Brother S's sharing, I was floored that CAP is not a waste of time.  I was encouraged to press on with 2021 CAP as our Community was & still is truly Aware of LOCCW's Presence!
All glory to God!
February 2021 – Chap Gor Meh @ Grace Light Spring (GLS) Seniors Activities Centre
GLS celebrated Chap Gor Meh, the last day or 15th day of CNY, twice on 26 February 2021 attended by 25 elderlies each session.  Both sessions, organised by staff of GLS, were supported by volunteers/members from all 3 congregations (English, Mandarin & Tamil) of LOCCW.  Kudos to 2 ladies who volunteered for the very first time in GLS that day.  God bless your heart!
The elderlies, some dressed to the nines, did warm-up exercises while seated on chairs, watched an informational video on Chap Gor Meh before answering questions & winning grocery vouchers (sponsored by a Singapore bank) for correct answers given.  From the enthusiastic raising of hands, answering aloud, the elderlies obviously gained knowledge & thoroughly enjoyed the Q&A session.
The dance performed by agile Cha Cha senior performers was a mean feat to beat as they executed the dance well though they practised not more than 3 times prior performance.  Yes, old but gold is true!
Soon it was time to say goodbye as the clock ticked towards the 1 hour limit. Goodies bags & lunch or tea (all made possible by our generous members & fellow elderly) were given out to smiling & appreciative elderlies as they left GLS.
Indeed, from the interactions, bantering & laughter from all present, GLS has once again fulfilled her purpose of engaging the senior generations in body & mind absolutely albeit shortly but surely!
December 2021 – Christmas by LIT Youth Congregation or rather a confession…
True to LOCCW's open & welcoming nature, 2021 Christmas was organised by our very own young people from Living In Truth (LIT) Youth Congregation…I think for the very 1st time in LOCCW's history, if I'm not wrong.
Truth be told, I was uncomfortable with the idea as I am a stick-in-the-mud-old-school parishioner.  Of course, I tried to be the "perfect" Christian participating in or more accurately "tolerating" the din today, 25 December 2021.  I was seething inside by the higher than usual decibels from sound systems, exuberant boisterous young people whistling & thunderous deliberate clapping of hands.  My head was spinning.
Thank God for His mercy & grace to save me from sinning further via Nicole's testimony.  Her sharing resonated with me especially her take on purpose in life, loving relations, accepting others for who they are, hope for the future & God is a friend not an enemy.
I realised my judgmental follies amidst my throbbing headaches.  But God was not done with me yet as my eyes were somehow focused on LOCCW's vision: to be a Christlike community for communities – affixed on the Chapel walls.
It was a light bulb moment for me…oh no, I was not Christlike at all as LIT Youth Congregation is my community too as God can use & send anyone or anything to speak His truth & knock my head!
After this shameful episode, to be Christlike would take my remaining lifetime…
I repent in dust & ashes…
Jesus, forgive my weakness, nonsense, gripes, etc…
P.S. Forgot to mention that as per LOCCW's usual practice, 2021 Christmas celebration also included Baptism rites.  Some invited guests even had supernatural-miraculous-God moments & were moved by the numerous testimonies of believers in Christ in addition to witnessing first hand how a young baptismal candidate immediately stopped crying when she was baptised!
Praise The Lord, Jesus is Alive!
January 2022 – Parish Covenant Service…by God…
For me, 23 January 2022 Covenant Service was scary, yet mind-blowing, overwhelming & out of this world as our mighty God actually presided over this service personally as He made an absolute unbreakable contract with us, redeemed sinners.  To me, God is forging a new path for LOCCW…a new path of restoration…
Why do I say this?
Some time back, God impressed upon our Vicar His direction for LOCCW via the Book of Nehemiah where the walls were restored first before reaching out to the people. However, being the cynical & skeptical me, did God really speak to our Vicar or did our Vicar make this up?  I'm questioning this as I am still discerning if God actually woke me up about 4am to read 1 chapter from a Major Prophet some months back…or was I dreaming?  How can I, a recovering people pleaser, perfectionist, raging tyrant, etc., be that privileged to be personally given a chapter by God?!
When our new theme "Loccw : Our Home, Our Family" was officially revealed via the 2 huge banners, I was intrigued why "Our Home" was placed before "Our Family"…shouldn't "Our Family" be placed before "Our Home" as a family can only be formed by individuals coming together to establish a home? Then I remembered, but only after umpteenth reminders by our Vicar in his sermons (I'm bad I know)…Nehemiah rebuilt the walls, gates etc. first aka Our Home/LOCCW before the people, Our Family.  Suddenly the theme made complete sense!  Nehemiah cared for the physical attributes before the Israelites as he heard from God, meaning LOCCW was & still is on the right track with God to restore Our Home prior to Our Family.  This was important to me as I was trying to make sense the exodus of members (belonging to different demographics from our given precinct Woodlands) past years & in normal churchy operations by fallible humans, restoring members would take priority but why did LOCCW leadership persist on reconstructing the welcome pack, mission, vision, facilities, etc. & not try to win back these lost sheep asap?  Why was LOCCW leadership so oblivious & uncaring?  Finally the elephant in the room (of exodus) was addressed as restoring our home (structure, processes, etc.) prior to addressing our people/family was done according to God's divine directions & not because of oblivious & uncaring leadership.  Thank God LOCCW leadership persisted & went against all odds & the common grain because they chose to trust & obey God!  Now we, the parishioners, are next for restoration.
Even the whole parish activity of affixing painted palm prints as leaves on leafless tree trunk banners was significant to me for syncing with LOCCW's theme & God's restoration according to Nehemiah. I reasoned if there were no tree/LOCCW, how could there be leaves/parishioners?  Of course tree trunk/Our Home comes before leaves/Our Family.  The best part was the leafless tree trunk & leaves also addressed the exodus…leaves wilt but new leaves/shoots will also grow, similar to the exodus out of LOCCW & consistent inflow of new parishioners into LOCCW too.  This is a normal &/or even common occurrence in most, if not all, religious organisations.  I am at peace again.
Through the three testimonies, God's restoration, to me, includes:
Reinstatement with replacement…like the reinstatement of Sister J with a new born child after her heart wrenching miscarriage. With her new born, I believe, Sister J's family, hope, faith & personal relationship with God were re-established & deepened.

Remodelling, rebuilding & re-equipping…Sister I's temple was demolished, reconstructed & rebuilt to an upgraded version after her multiple harrowing & complex medical misadventures & major surgeries. By God's mercy, grace & healing, Sister I is generally well & alive even after her continuous, ongoing & tremendous health challenges.

Repentance to be righteous again…I was taken aback by Brother G's, a lay reader, honesty regarding his car accident, tiff with his wife & his ready admission & repentance for careless driving, being irresponsible & causing the accident etc. The lessons I learnt were asking God for forgiveness, being right with God & having inner peace trumped everything else! 
With the above, 2022 is the beginning of God's restoration, at least true for me.
Of course, the sermon pointers, the banner activities & testimonies could be humanly orchestrated to sync but how do I account for my early wake up call to read Isaiah 54?!?!
No rewards here…amongst other things, the theme of Isaiah 54 is…surprise surprise…RESTORATION!
Healing here I come…Praise The Lord!
February 2022 – A glimpse of heaven…27 February 2022 Confirmation Service…
I was transported to heaven during Confirmation Service…
I spied with my eyes some parishioners dressed to the nines with flowing frocks & perfectly coiffed hair…did angels descend into LOCCW today, I wondered…what a feast for my eyes…
Next I heard melodious voices & music worshipping our Heavenly Father in multiple languages seamlessly & harmoniously…yes, just like the heavenly hosts serenading our Eternal Redeemer Saviour forever & ever…
Out of the corner of my eyes, I witnessed inclusiveness & not marginalisation as the four worship flag dancers with varied abilities, ages, demographics, seasons of life moved in tandem…my heart skipped a beat as no one was excluded as everyone, including a believer with special needs, was also flag dancing here in LOCCW…just like in heaven I believe…
I was already mesmerised but what convinced me that I was given a glimpse of heaven was when our Diocesan Bishop Right Reverend Dr Titus Chung made a deliberate effort to use a comforting tone with clearly enunciated speech to address by name, pray for & welcome into the fold each & every individual Confirmation candidate…all 32 of them!
To me, especially what Bishop did, was a prelude to meeting our Top Shepherd God The Father face-to-face in heaven!
…bliss…
But hey, wait a second.  What was Bishop's sermon about?
I couldn't recall as I was caught up in the glory of the moment, just like Peter, James & John.
The 3 shell-shocked Apostles wanted to build 3 tents, for Jesus, Moses & Elijah, to contain for their own enjoyment Jesus's glorious transfiguration to the exclusion of listening to Jesus…similarly I enjoyed the graceful dance moves, beautiful music, grandeur proceedings so much till got completely distracted & didn't listen intently to the sermon!
…oops…
Thank God for new chances & technology, I believed Bishop's message had some important questions like…
Do I seek first the kingdom & righteousness of God?

Do I love others?

Do I make even 1 disciple, let alone disciples of all nations?

Am I willing to step out of my comfort zone to serve God & others?

Am I prepared to return to & attend onsite service instead of offsite-online service as "…worship is complete only if we build a relationship with God & with one another"? (quoting Bishop)

Am I willing to listen to the voice of God, sacrifice like Jesus to serve God & others, to bring the light of Christ to places of darkness & in so doing fulfil the new commandments & the great commission?
By God's mercy & guidance, I hope to ace the above questions before my lease on earth expires…
Heavenly Father, wait for me!
March 2022 – 02 March 2022 Ash Wednesday service…Tamil with English translation…
Heads up, this is a confession of my dark moments…
I listened to Ash Wednesday sermon with a heavy heart.  I was grappling with church life as it can mirror unchurched life with toxicity, verbal diarrhoea, unverified assumptions, gossips, etc.
Does God know?
I digress…
I didn't exactly feel saintly to partake in such a holy day like Ash Wednesday, the 1st day of Lent, a solemn reminder of human depravity, mortality & the need for repentance & reconciliation with God.
Still I soldiered on…
The preacher, Bro S, shared on the prodigal son who finally reflected on his bad choices after squandering his inheritance.  The prodigal came to his senses, resolved to leave his vile past, return to & repent face-to-face to his father, who was waiting with mercy & compassion to restore the prodigal as son, not a hireling & with much rejoicing that the son was once dead, now alive again, was lost then found.
I found myself wondering…how many born-again redeemed sinners would relate to this prodigal especially being once dead, then alive again, lost then found by the father?  Or even relate to having a less than stellar or perhaps even a sordid past & then repentant to choose & be made right again by & with our Heavenly Father?
I also remembered how the older son judged & griped about the father's mercy, pardon, acceptance & generosity towards the prodigal…
Once again I wonder…how many of us would relate to this judgmental older brother & his seemingly less serious atrocities as compared to the prodigal's debased choices?  Are there big sins & little sins?  Do sins come in different degrees of depravity?  Isn't a sin, or rather any sin, an affront to God's mercy, grace, holiness & love?
I digress…
Our Vicar then shared his lonely Covid illness episode where he felt abandoned by humans, but definitely not by Jesus.
A little voice inside me reminded me, after hearing our Vicar's testimony, the crux of the matter.  Yes, I too had personally experienced older brother personas but I am definitely not abandoned by Jesus at all!  Jesus died for all sinners, including me, prodigal & older brother personas.  I believe we Christians are dirty rags aka redeemed prodigals.  My listless heart revived!
Lessons learnt:
Omniscient God knows everything!  Jesus will send comfort via experiences of fellow believers to restore us to wholesomeness…albeit slowly, quietly & sometimes unexpectedly…
Lent is a period of giving up something, fasting & praying & devoting time to read & meditate on scriptures.
So…Heavenly Father, forgive me as I give up wanting to throw stones at fellow dirty rags.  Forgive me as I forgive them.  Jesus, I admit I can be the prodigal son plus the resentful & judgmental older son too.  Forgive me, Lord!  Thank you for Your comfort & assurance that when all may judge me but You, my Lord Jesus, know the truth & will never abandon me.  Thank you Jesus for Your mercy, redemption & restoration!
P.S. God was not done with His restoration yet as through subsequent Lenten devotions, I was reminded to forgive & pray for my enemies, even frenemies.  Plus via 13 March 2022 sermon, I heard "…do justice, do righteousness, else face the consequences of desolation…".  Via 20 March 2022 sermon, I heard "…orientation, disorientation & reorientation are the rhythms of life…" & Vicar's double whammy of falling ill again with dengue fever.  Jesus, life is tough but I still want to thank you for carrying us on Your shoulders each & every time!